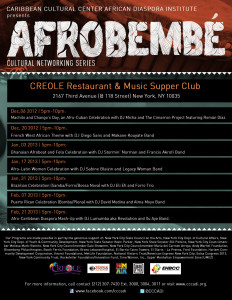 The Caribbean Cultural Center African Diaspora Institute (CCCADI) is excited to announce the launch of its "AfroBembé Cultural Networking Series," a sequence of African Diaspora themed parties to build community support for renovation of the landmark firehouse that will be the center's new home in El Barrio.
Attendees will meet New York City's most creative "doers and shakers" and celebrate the vibrant heritage of diverse cultures across the globe. Parties will be held twice a month from December 2012 to February 2013 and will feature DJs, live bands and the sights, sounds and tastes of the African Diaspora. This innovative and dynamic series pays homage to the diverse international community of El Barrio.
The kick-off event is the Afro-Cuban themed "Machito and Chango's Day" on Thursday 6 December 2012 at 5 p.m. with DJ Micha and The Cimarron Project featuring Román Díaz. Parties continue through February 2013:
Upcoming Dates
20 Dec 2012, 5 p.m. – 10 p.m.
French West African Theme with DJ Diego Sans and Makane Kouyate Band
3 Jan 2013, 5 p.m. – 10 p.m.
Ghanaian Afrobeat and Fela Celebration with DJ Stormin' Norman and Francis Akrofi Band
17 Jan 2013, 6 p.m. – 10 p.m.
Afro-Latin Theme: Women Celebration with DJ Sabine Blaizin and Legacy Woman Band
31 Jan 2013, 6 p.m. – 10 p.m.
Brazilian Celebration (Samba/Forro/Bossa Nova) with DJ Eli Efi and Forro Trio
7 Feb 2013, 6 p.m. – 10 p.m.
Puerto Rican Celebration (Bomba/Plena) with DJ David Medina and Alma Moyo Band
21 Feb 2013, 6 p.m. – 10 p.m.
Afro-Caribbean Diaspora Mash-Up with DJ Lumumba (aka Revolution) and Ilu Aye Band
Location: CREOLE Restaurant & Music Supper Club, 2167 Third Avenue (@ 118 Street) New York, NY 10035
Cost: $8 in advance, $10 at the door; purchase tickets at http://afrobembeseries.eventbrite.com/
For more information on this series, contact (212) 307-7420 Ext. 3000, 3004, 3011 or visit http://www.cccadi.org/
Special thanks to our partners: East Harlem Business Capital Corporation, Northern Manhattan Arts Alliance and Asho Productions.