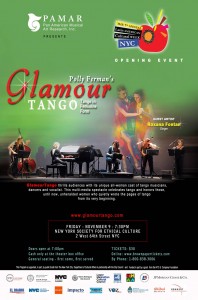 GlamourTango thrills audiences with its unique all-woman cast of tango musicians, dancers and vocalist. This multi-media spectacle celebrates tango and honors those, until now, unheralded women who quietly wrote the pages of tango from its very beginning.
Date: 9 November 2012, 7:30 p.m. Doors open at 7:00 p.m.
Location: New York Society for Ethical Culture, 2 West 64th Street, New York, NY 10023
Tickets: $30. Purchase tickets online or by phone at 1-800-838-3006.
More information: glamourtango.com
Co-sponsored by NoMAA.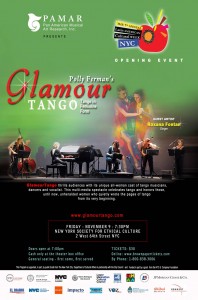 GlamourTango emociona al público con su único elenco de músicos de tango, bailarinas y vocalista compuesto completamente de mujeres. Este espectáculo multimedia de tango celebra y honra a aquellas mujeres, hasta ahora nunca honradas, que escribieron las páginas del tango desde sus inicios.
Fecha: 9 de noviembre de 2012, 7:30 p.m. Las puertas abren a las 7:00 p.m.
Ubicación: New York Society for Ethical Culture, Calle 64 Oeste, no. 2, Nueva York, NY 10023
Boletos: $ 30. Compre entradas en línea o por teléfono al 1-800-838-3006.
Más información: glamourtango.com
Copatrocinado por NoMAA.
Please Share and Like this!