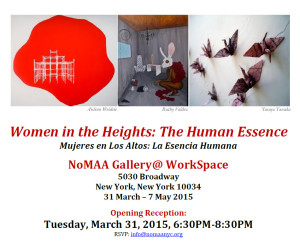 Para celebrar el Mes de la Mujer, la Alianza de Artes del Norte de Manhattan (NoMAA) inaugura su nueva galería con la exposición Mujeres en los Altos – La Esencia Humana, con obras de mujeres artistas del norte de Manhattan que abordan cuestiones que afectan a la humanidad. Curadora: Andrea Arroyo.
Ubicación: Galería NoMAA, WorkSpace, 5030 Broadway, New York, NY 10034
Fechas: 31 de marzo a 7 de mayo de 2015
Horario: lunes a viernes, 11 a.m. a 6 p.m., o por cita (llame al +1 212 567-4394)
Recepción de inauguración: martes 31 de marzo de 2015, 6:30 – 8:30 p.m.
Charla con las artistas: lunes 20 de abril de 2015, 6–8 p.m., en CUNY in the Heights, 5030 Broadway, New York, NY 10034
RSVP:
Artistas participantes: Aislinn Weidele; Amara Clark; Atsede Maryam S. Elegba; Celia Inez Tavarez; Charity Kittler; Constanza Armes-Cruz; Daniela Mullady; Diana Schmertz; Erika Norton; Ferlaisa Gómez; Fiona Sheeran; Janina McCormack; Jill Nelson; Kathleen Granados; Lilia Levin; Lisa A. Turngren; Michelle Melo; Michelle Orsi Gordon; Minerva Roman Urrutia; Nancy Palubniak; Red; Risa Hirsch Ehrlich; Ruthy Valdez; Tuwanda Harmon; Uniqua Simmons; Wilhelmina Obatola Grant; Xóchitl Cristina Gil-Higuchi; Yasuyo Tanaka; Yona Verwer.
Please Share and Like this!