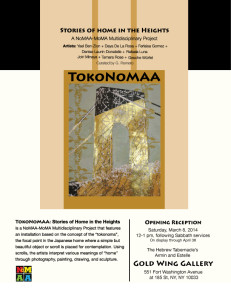 TokoNoMAA: Stories of Home in the Heights is a NoMAA–MoMA multidisciplinary project that features an installation based on the concept of the "tokonoma," the focal pooint in the Japanese home, where a simple but beautiful object or scroll is placed for contemplation. Using scrolls, the artists interpret various meanings of "home" through photography, painting, drawing and sculpture.
Location: The Hebrew Tabernacle's Armin and Estelle Gold Wing Gallery, 551 Fort Washington Avenue, New York, NY 10033
Dates: 8 March – 30 April 2014
Opening reception: Saturday 8 March 2014, 12–1 p.m. EST, following Sabbath services
Please Share and Like this!